Did you know that vanilla, with its delicious aroma, is not only wonderful for your taste buds, but also for your health? The pods are packed with vitamins, powerful antioxidants and rich in beneficial minerals. Let's take a closer look at what else these mysterious pods have to offer and what you can make with them!
Natural flavoring and aromatizer
Vanilla powder is, thanks to its wonderful aroma, a truly powerful natural flavoring and scent, which makes it a great addition to a variety of desserts! Vanilla beans and pods come from the Vanilla family of orchids, which nowadays mostly originate from Tahiti, Madagascar and Sri Lanka.  Natural vanilla powder is dark brown in color and has a distinctive, strong vanilla scent. The white vanilla sugar you might be used to seeing on shop shelves unfortunately has very little in common with real vanilla – it's mostly just plain white sugar with just the right amount of vanilla or imitation vanilla added. Unlike industrial vanilla sugar, natural vanilla doesn't make food bitter, quite the opposite! Vanilla gives food a sweetish taste and aroma!
Vanilla as a powerful herb since 1721
 Vanilla was officially declared a medicinal plant in London in 1721. Above all, vanilla was known as a digestive aid. Vanilla has a calming effect on the nervous system, being an effective stress reliever thanks to its wonderful aroma, and enhancing feelings of relaxation and happiness. Vanilla is an effective remedy for headaches and an upset stomach, and is also an excellent aid for many other digestive problems.
Vanilla beans also provide the body with a number of essential micro-nutrients, by having high levels of zinc, iron, calcium and magnesium. Vanilla also has an anti-inflammatory and pain-relieving properties, making it a particularly effective remedy for fatigue, joint pain, nausea, swelling, neck and back pain. With its warming properties, vanilla raises body temperature and is also deeply relaxing. Thanks to its high antioxidant content and antibacterial properties, vanilla helps to boost the body's resistance and strengthen immunity, effectively alleviating the symptoms of cold and flu while calming the mind and spirit.
What does the Medical Medium say about vanilla?
Anthony William, or the Medical Medium, is also convinced of the healing properties of vanilla, emphasizing its excellent calming effects on the nervous system. Anthony writes that vanilla beverages are suitable in case of upper respiratory disease, as well as for consumption in times of stress, providing relaxation and rejuvenating both body and mind. In addition, Anthony William recommends adding vanilla to smoothies, as well as to healthy pastries and desserts, further enhancing the healing power of foods.
A popular spice in desserts
Vanilla is a much-loved spice among foodies and sweet lovers alike. Its pleasant, sweet aroma is ideal for flavoring ice creams, pastries, smoothies and various drinks. Each pod contains more than 25 000 tiny black seeds.  The flavor of natural vanilla is quite strong, which means that only a small amount is needed. Often, half a teaspoon of vanilla powder per dessert is enough. Feel free to add vanilla to your favorite pastry, breakfast pudding, fruit salad, yogurt or even make a delicious vanilla sauce – let your imagination fly! Vanilla can be added to almost any dessert, enriching it with valuable nutrients and a delicious taste!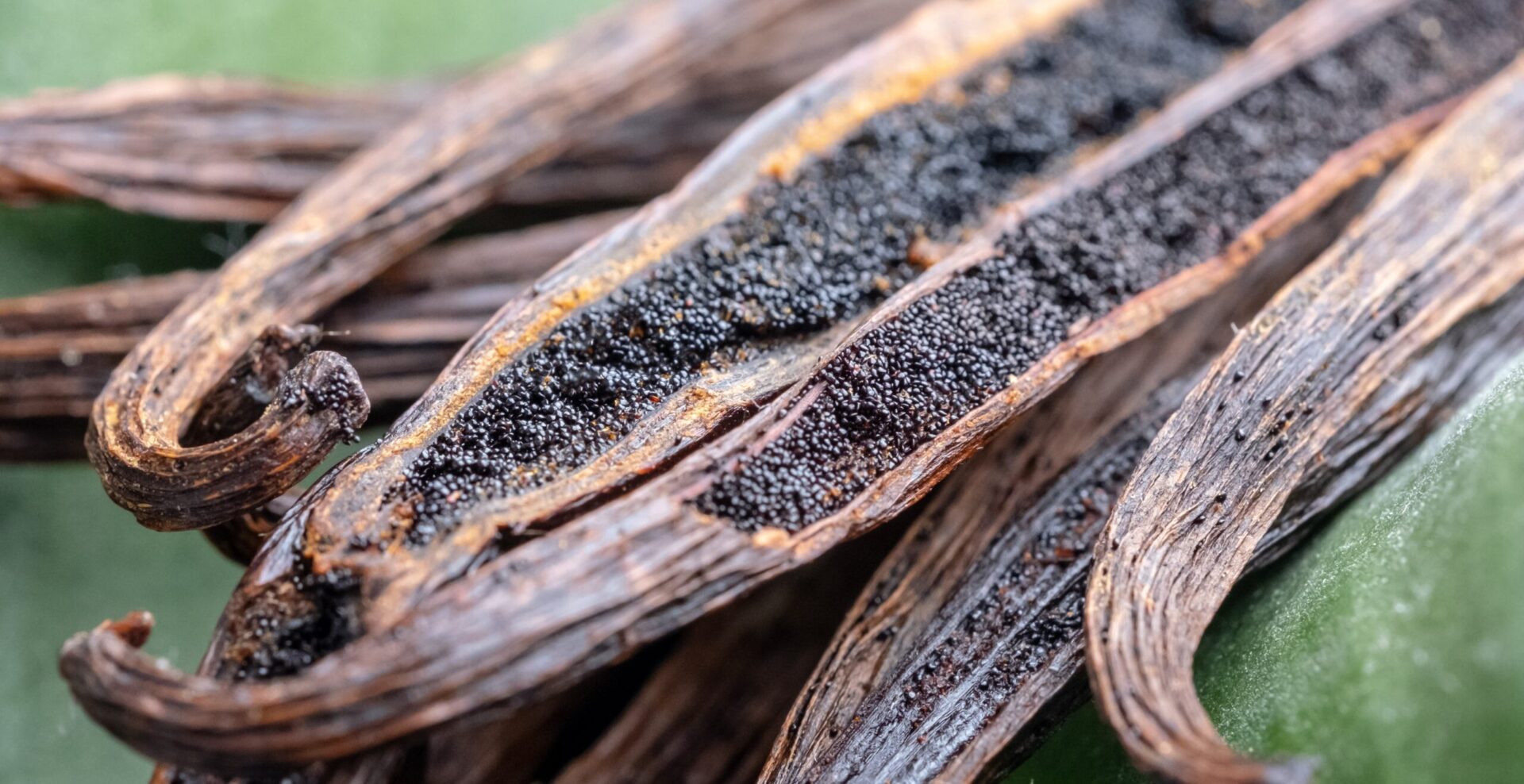 Powder or pod – which to choose?
Vanilla pods are available in both powder and whole pod form, but what's the difference? Powdered vanilla beans are ground beans – a whole bean is ground into a powder, along with the wonderful seeds inside. The powder is handy to add to smoothies, yogurt, porridge and baked goods. However, with beans, you need to take a slightly different approach. To get the tiny, delicious seeds out of the vanilla bean, first cut the bean in half length-ways and then carefully scrape the seeds out of the bean with a knife. The seeds are suitable for mixing into cake dough or desserts. However, the pods themselves are also valuable. Once the seeds have been removed, the pods can be added to foods, for example during cooking or heating, to give them the most flavor. However, it is a good idea to dry out the pods before serving.
Try it for yourself! Here's a recipe for a healthy and delicious vanilla ice cream:
For ice cream you need:
1 l of unsweetened natural almond milk.
180 g of soaked cashews
180 g natural Canadian maple syrup
1 tsp vanilla powder
1 tbsp tahini
blender or food processor
 Instructions:
Put the cashews, maple syrup, vanilla and almond milk in a blender or food processor and process until silky smooth. Then add the tahini and process some more until the tahini is nicely blended. As a final step, pour the ice cream mixture into a silicone mold (a loaf tin works well too) and place in the freezer to set. If you want a creamy texture, don't let the ice cream freeze completely, or let it soften at room temperature for a while before serving. Serve with whatever you like!
Both vanilla powder and pods are waiting for you in our online shop!
Get Centralsun organic vanilla powder HERE.
And the sun-dried Centralsun vanilla pods can be found HERE.