Freeze-dried powders make a wonderful ingredient for sweet as well as savory dishes, offering a natural coloring effect as well as exquisite taste. They possess extremely high nutritional value, being packed with vitamins, minerals, antioxidants and amino acids, enhancing your health and strengthening the immune system.
Powders made from exotic fruits complement your daily life with a touch of tropics, unveiling the world of exotic flavors through superb colors and authentic taste experience. All Centralsun freeze-dried powders are 100% pure, natural and vegan. Non-GMO and additive-free. Ready to meet? Let`s dive into the world of bright colors and flavors and take a closer look at the possible uses of freeze-dried powders.
Sprinkle over desserts
Different fruit powders make a perfect decoration for desserts. Sprinkle over cakes, cookies, muffins, layered desserts or top your delicious cake with exotic fruit. The flavorful powder made from ripe fruits will take your desserts to a whole new level, adding texture as well as taste. Freeze-dried powders are definitely a perfect addition to your chia puddings.
Mix in the glaze
Let the freeze-dried fruit or berry powders surprise you should you be seeking for a change to a classic chocolate or vanilla glaze! Prepare a delicious blueberry glaze by mixing the powder into yogurt or coconut cream or simply adding tropical flavor with a passion fruit.
Season the sauces
Have you ever tried an exotic mango-coconut curry? Try this delicious coconut curry recipe with freeze-dried mango powder:
You will need for the curry: 
1 tbsp coconut oil
1 onion finely chopped
2 garlic cloves, crushed
1 cm piece of ginger, crushed
1 tsp curry powder
150ml coconut milk
handful of fresh coriander
juice of ½ lime
400g chickpeas
1 carrot, peeled and chopped
1 mango, chopped
1 heaping tbsp freeze-dried mango powder
50g roasted cashew nuts
200g fresh spinach
salt and pepper to flavor
water or vegetable broth
To serve: 
Directions: 
Heat coconut oil in a saucepan, add the chopped onion, crushed garlic and ginger. Let them brown for 10 minutes until the onion, garlic and ginger are softened. Add the curry powder and cook for another minute, stirring. Next add the coconut milk, chopped coriander, lime juice, chickpeas, chopped mango, carrot cubes, cashews, salt, pepper and water or vegetable broth to nicely cover the ingredients. Bring to boil and simmer at low heat until the carrots are cooked. As the last step add the spinach and freeze-dried mango powder and let it simmer for a few more minutes. Serve with rice.
Add to cake batter or bread dough
Prepare a healthier version of Red Velvet or bake a streaky loaf of white bread instead. In addition to an eye-catching look, you will have a nice fruity-berry taste as a bonus!
Make raw cakes
Freeze-dried fruit powders are a perfect match for raw cakes, making the cakes significantly more nutritious as well as giving them an exceptionally beautiful color. Surprise your taste buds with a tropical passion fruit cake for example.
For a tropical raw cake, you will need:
For the crust: 
1 cup of almonds
½ cup of pitted soft dates
1 tbsp raw cocoa kernels
1 tbsp cashew butter
¼ tsp vanilla extract (optional)
a pinch of salt
For the filling: 
1 cup of presoaked (minimum 6 hours) cashew nuts
2 cups of mango cubes (fresh or frozen and thawed)
3-4 tbsp freeze-dried passion fruit powder
4 soft pitted dates
1/tsp freshly squeezed lemon juice
1 tbsp maple syrup
¼ tsp of vanilla extract (optional)
3 tbsp coconut oil (melted)
a pinch of salt
Directions: 
Start with the crust. Combine the nuts and dates in a food processor, blend until you have a smooth mixture. Add raw cocoa kernels, cashew butter, vanilla extract and salt, keep blending until the cashew butter and cocoa kernels have melted into the mixture. Lift the mixture into a cake tin lined with parchment paper and press it evenly over the bottom of the tin with your fingers. Place it into the freezer to harden for 30 minutes. Meanwhile, prepare the filling. Drain the soaked cashews and place them into the food processor together with the rest of the filling ingredients (except the coconut oil), blend until smooth. Add coconut oil and blend until well combined. Now pour the filling over the hardened crust and place in the freezer for minimum 3 hours. Let the cake stand at room temperature for approximately 1 hour before serving. Then cut into slices and serve to your liking!
Prepare ice-cream
Make a truly glamorous ice-cream from frozen bananas with antioxidant-loaded black goji, vitamin-packed acai or vibrant red dragon fruit. In case you are more an admirer of tropical flavors, sprinkle some freeze-dried passion fruit powder or some mango over your ice-cream.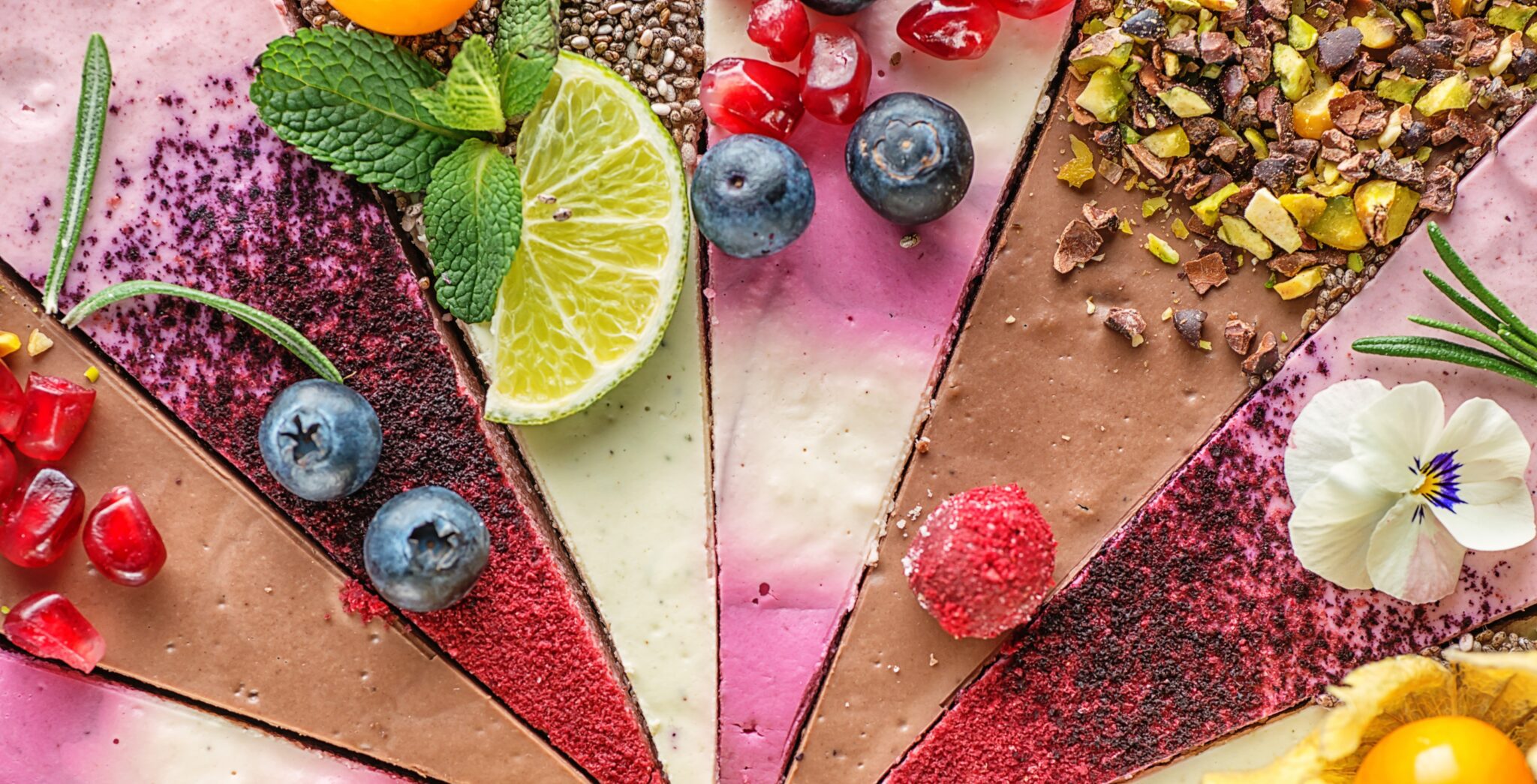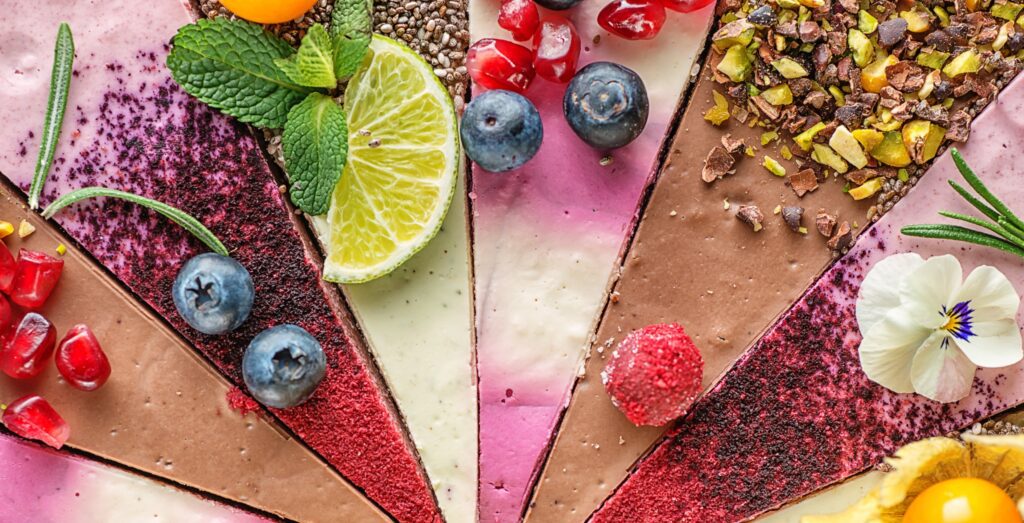 Blend a smoothie
Smoothies are one of the easiest and most delicious ways to enrich your diet with different superfoods. Freeze-dried powders make this even more easy, fast and convenient. Just a few spoonfuls is enough to increase the nutritional value of a smoothie, enriching it with the necessary vitamins, minerals and antioxidants that are plentiful in the powders! You can make a really powerful heavy-metal-detox-smoothie with wild blueberry powder or blend some mighty goji berry powder into your smoothie. In case you are more of a green smoothie fan, you can drop some freeze-dried spinach into your smoothie instead. Try this tropical scented spinach smoothie for instance!
Add color to your pasta
Freeze-dried powders make an ideal natural alternative to synthetic food colorings, turning your dishes naturally colorful. Try bright pink pasta with red dragon fruit for example!
For the pink pasta you will need:
pasta to your liking
1tbsp dragon fruit powder
3 tbsp tahini
2 tsp garlic powder
1-2 tbsp freshly squeezed lemon juice
1tbsp olive oil
1 ½ cups chickpeas
Directions: 
Cook the pasta according to the instructions on the package, then strain and set aside. Combine the remaining ingredients in a food processor and blend until you have a mixture with smooth creamy texture. Add a little liquid if needed, season and mix into the pasta. Enjoy right away!
Enjoy sprinkled over your porridge
Take your morning porridge to a new level by adding some nicely sweet and sour raspberry powder, tropical papaya, vitamin-C rich pineapple or something else to your liking. You will turn your sturdy porridge even more nutritious, vibrant and tasty!
Make energy balls
In addition to the aforementioned, you can use the freeze-dried powders as an ideal flavorful addition to your energy bars and energy balls. They are wonderfully easy to make!
Try this for example: combine 4 cups of soft pitted dates, 2 cups of organic gluten-free oatmeal and 4-6 tbsp freeze-dried raspberry powder in a food processor. Blend into a smooth mixture and shape into balls sized to your liking or press over the bottom of a cake pan covered with parchment paper, let it harden in the fridge for a few hours and cut into bars. Store in cold!
So much thrill, delicious taste and health hidden in the freeze-dried powders! Take a closer look at our e-shop, choose your favorites and start experimenting! We have categorized the freeze-dried powders in our e-shop as follows: fruit powders, berry powders and vegetables – so that you can find your favorite products fast and conveniently.
Fruits can be found at: https://centralsun.com/product-category/freeze-dried-products/freeze-dried-powders/fruit-powders/
Berries at: https://centralsun.com/product-category/freeze-dried-products/freeze-dried-powders/berry-powders/
Vegetables and other plants: https://centralsun.com/product-category/freeze-dried-products/freeze-dried-powders/vegetables-and-others/
Experiment and have fun!